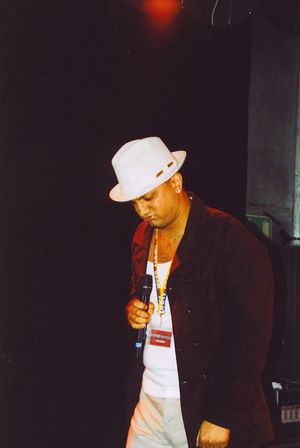 BIOGRAPHY
Over the past 34 years, UK born & bred based Rich Beggar [FKA Spice C / Spice-© / FinchBridge / Just Prem / Jus Prem] has securely established himself not only as a Three-time Multi-No.1 UK & International Soul/R&B Singer-Songwriter, Independent Recording Artist & Label Owner but also as an exceptionally seasoned and multifacetedly accomplished 80s Golden Era/90s Boom Bap Hip-Hop Emcee, Rapper, Lyricist, Writer, Ghost Writer, Songwriter, Ex-Session Singer & Live Performer. And has been a distinguished Radio Presenter & Movie Actor. 
He has made a manifold of multifarious recordings for his own Projects, Collabo's and Featured Guest Artist Appearances on Singles, Remixes, EP's, Studio Albums, Compilation Albums & Motion Picture Movie Soundtracks alike in various music genre categories i.e., Hip-Hop, Rap, Soul, Modern Soul, Soulful Garage, Soulful House, R&B, Drum n Bass & Bhangra/Desi. 
He has written, co-written, ghost written, vocal arranged, co-produced, collaborated, performed and made featured guest appearances alongside a myriad of notable luminaries such as; Nelly Furtado, Preston Glass, Sounds of Blackness, Darlene Love, Peggi Blu, Swing Out Sister, Mikey Craig (Culture Club Bassist), Georgie B (Second Image, The Groove Association & Hitmaker Producer/Remixer of Rich Beggar's Two-time 2021 UK Soul Chart Multi-No.1 Smash Hits), Ian Thompson (Saxophonist for UB40, Kenny Thomas, Drizabone, Georgie B & Rich Beggar), Greg Craig & Giles Craig (Kelly Le Rock), Leee John, Noel McKoy (R.I.E.P), Don-E (90s UK Soul Legend & Producer/Remixer of Rich Beggar's 3rd Consecutive 2022 UK Soul Chart Multi-No.1 Smash Hit), Junior Giscombe, Paul Johnson, Michael Snaith (Galliano), Chris Ballin, Najee, Kenny Thomas, Sandra St. Victor, Tashan, Trinity Stone (Sugababes), Mega Man (So Solid Crew Frontman), James Day, Carmichael Musicover, Cleveland P. Jones, Kyra Simone, Bashiyra, JKD, Imran Ansari, Sasha (90's Bhangramuffin Queen), Sparkii Ski (London Posse/Cookie Crew/Monie Love), MC Bello.B (Outlaw Posse/KLF), MCM (Caveman), Nihal Arthanayake (DJ/Radio/TV Presenter for Radio 1/BBC Asian Network/Radio 5 Live/MTV Base & BBC), TY (R.I.P), Lyric 'L', Overdose, Barbosa Wref, Disorda, Mark B (R.I.P), Mud Family (Skinnyman/Intense), The 57th Dynasty, DDubble Impactt (Mic'Knight & E-Po), Laconic Sydz, Dubbledge, Blufoot, Nomadic P, Travis Blaque, DJ 279, Tim Westwood, DJ Daredevil, DJ Trax (Dave Davies), Arjun (The Roots & Jurassic 5), Dev Paradox AKA Alaska, Raghav, Sef (So Solid Crew/The Reelist), Diniece McQueen, Malcom 'Tony B' Bloom/F.O.OL Records, Stretch Taylor, Jim Ryan, Mick Lee (Audiofreaks), Justin O'Neal (Slipstreem), Dan Bewick (Lisa Stansfield/Dirty Rotten Scoundrels) and many more!   
Rich Beggar has garnered and received plaudits, acclaim, laudatory reviews and chart-topping success in UK, Europe, USA, Canada, Central/Northern/Southern America, Africa, Asia & Middle East music territories, respectively. He is no stranger to the World of Radio, appearing numerous times as a Guest Artist Interviewee & Talk Panellist for various UK Radio Stations such as Radio 1, BBC Asian Network, Club Asia, Choice FM & UK Obsession FM. He was an Award-Winning Radio Presenter himself for ACR FM (Anglia Community Radio) on UK's bygone NTL TV Channel 8 (The Watershed Show, Nite Beats & Presenter of The Year 1999) and served up until 2017 for Soulstice Radio 24, Deja Vu FM & Cheeky Radio (TSSF Show aka The Story SOUL Far Show) respectively. 
In January 2022, Rich Beggar, had been invited by UK's iconic flagship "Classic & 21st Century Soul Station"; Solar Radio to present and broadcast live from their City of Westminster, London Station HQ & from his Home Remote Studio (Solar Radio Setup) his treasured The Story SOUL Far Show [TSSF] as a Monthly Guest Radio Presenter (3rd Saturday of each month from 8-10pm UK GMT/BST) and since then becoming a permanent fixture and member of the Solar Radio Station Presenters Team. 
The Story SOUL Far Show 📚🎵📻 Every 3rd Saturday of the Month 8-10pm. RB, plays page-turner tunage 📖🎵☛ Classic/Modern Soul, 80's/90's R&B, Rare Groove, Boogie, Jazz-Funk, Soulful House, Gospel, Mature Adult Soul + Slow Jams.
He has also been a Freelance Voice Over Actor for Animated Films & Freelance Movie Actor. Most notably cited and credited (by his real name) in IMDB as Prem Sharma 'Heavy' (1 of 3 archenemy characters) in the 2009 BIFA & BAFTA Award Nominated Feature Film 'Shifty' © 2009 Between The Eyes, Film London, BBC Films & Metrodome Distribution] and featured on the film's 'Shifty Original Motion Picture Soundtrack' Album [© 2009 Silva Screen Records] alongside other guest artists such as Plan B (Rapper, Singer, Actor & Film Director), Sway (Rapper) & Riz MC aka Riz Ahmed (Shifty Film's Starring Lead Role Actor, 2022 Academy Award Oscar Winner, Double Golden Globe Nominee, 2016 Primetime Emmy Award Winner Actor & Rapper) & DJ Trax (Drum n Bass Pioneer). 
Prem Sharma aka Rich Beggar was also Nominated for 'Best Actor' Award at the 7th Annual 2005 BFM International Film Festival Board at London West End's Prince Charles Cinema Award Ceremony ~ Hosted by Critically Acclaimed Actress Cathy Tyson (Mona Lisa 1986) for his Debut Acting Role in the Multi-Award-Winning Short Film Comedy Drama 'mORALLY Speaking' made by Multi-Award-Winning British Short Film Director, Screenwriter & Playwright Lawrence Coke. 
After the ground breaking and dizzying success of both his 2021 Two-time Multi-No.1 UK Soul Chart (and their inclusions in a cluster of other noteworthy nationwide British Soul Music Charts) Smash Hit Singles; "Who Can Be Sure" & "Pretty Brown Eyes," both of which were Produced by Multi-Award Winning 80s Brit-Funk Icon & UK's Multi-No.1 Musician, Producer, Remixer and Singer-Songwriter Extraordinaire Mr Georgie B (Second Image & The Groove Association). UK Soul Chart-Topper: Rich Beggar returned on August 1st 2022 with his long-awaited and highly anticipated 3rd Modern Soul Single entitled: Sucha Good Feelin' that was Produced by none other than Multi-Award-Winning Musician, Producer, Remixer, 90s UK Soul Legend and British Neo Soul Superstar Singer-Songwriter: Mr Don-E aka Atomic Dred.
Since its release, Sucha Good Feelin' has gone on to become Rich Beggar's unprecedented 3rd Consecutive 2022 UK Soul Chart Multi-No.1 Mega Smash Hit including London Music Radio (LMR) September 2022 Chart No.1, 3 Weeks in a row Non-Mover No.1 in UK's Street Sounds Radio Soul 21 Bish's Breakers August 2022 Chart, Canada's Star Time Top International Autumn 2022 Chart Triple No.1, a Top 20, Top 10 & Top 5 Climber, Jumper, Leaper, Riser & Residual in various other prestigious and prominent UK, European & Caribbean Soul Music Charts, Amazon UK Hot New Releases Chart No.3, Amazon UK Best Sellers Chart No.11, Three-time Tune of The Week on UK's JFSR, Solar Radio & Street Sounds Radio and a Soul Radio Rotation Firm Favourite. Making Sucha Good Feelin' Rich Beggar's Highest Grossing and Biggest Mult-No.1 Smash Hit Single to date. It is still available to download globally at www.richbeggarmusic.com (Punney Records) and also available to stream/download via all the usual globally reputable online stores and the world's leading digital streaming platform outlets. 
Rich Beggar's Sucha Good Feelin' 3rd Multi-No.1 Hit Single also currently features on the globally revered, trusted and leading Annual Soul Music Compilation CD Box Set Album Series 'Luxury Soul'.
'Luxury Soul', Soul Music Compilation Albums have become a reliably respected, annually anticipated, firm-favourite "go-to soul music triple cd box set brand", which showcase the cream of the crop in the global soul music scene of distinguished and renowned artists/duos/groups/bands/producers alike. 
'Luxury Soul' has earned itself critical acclaim and staggering success worldwide for almost 20 years on the iconic Expansion Records (Founded by Richard Searling & John Anderson in 1984) headed by legendary Soul Music DJ, Author, Journalist & Label Executive... Mr Ralph Tee.
Following Rich Beggar's recent Licensing Record Deal signing with Expansion Records, we're excited to announce that Sucha Good Feelin' is NOW also AVAILABLE on the 'Luxury Soul 2023' (3CD) Box Set. 
Catalogue No: SKU CDBEXP23 
Price: £18.00 (Pound Sterling)
Release Date: Friday 13th January 2023 
Available at Expansion Records: https://expansionrecords.co.uk/Luxury-Soul-2023-3CD-p517152708
Luxury Soul 2023 is also available at all globally reputable online stores and the world's leading digital streaming platform outlets.